Since starting this blog in 2017, I have read about and met some amazing people in the vegan fashion industry. Bloggers, designers, entrepreneurs, activists and influencers, all passionate about veganism, fashion or environmentalism, and sometimes all three! As part of my mission for Grandermarnier, I want to promote the work of these people and tell you all about what got them into their line of work.
I had the idea for a series of interviews, as I believe it's a great way to get to know someone, or at least a snapshot of their life, and can help people be inspired to start their own journeys. My interviews are going to be with women and men who have inspired me in some way, either relating to vegan fashion or sustainability, and I hope they will be a great way for you to get to know these people better.
The first of these interviews is with the beautiful Sruti Raman of Love and Blossoms. She is an award winning blogger who writes about vegan fashion, her fitness routines and positive affirmations. I followed Sruti very early on when I first started learning about vegan fashion and I was blown away by her style and energy. Her Instagram page (@l.o.v.e_and_b.l.o.s.s.o.m.s) is a colourful display of classic style and modern silhouettes, and she is one of the most stylish vegans I have ever seen!
I caught up with Sruti to ask her a few questions and she was kind enough to oblige, read on to find out what we got talking about…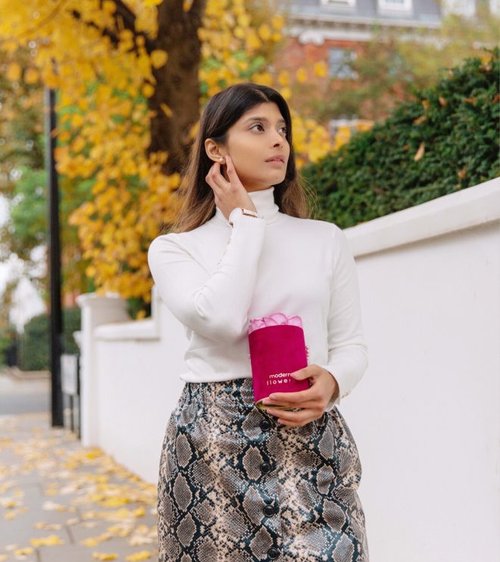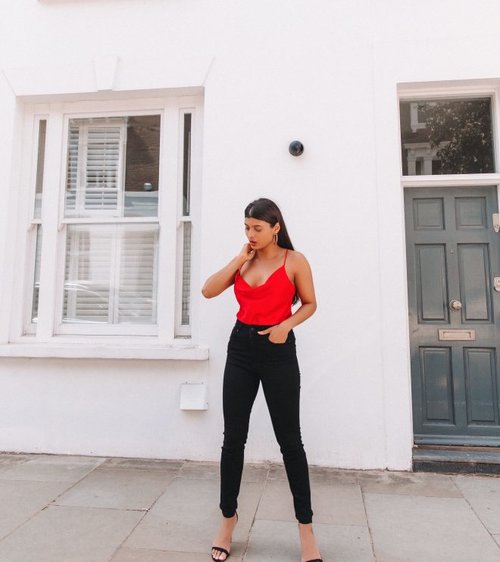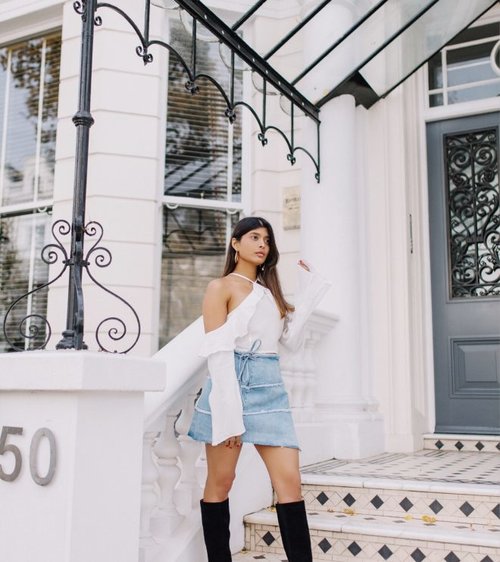 Q. When did you start exploring vegan fashion?
A. I started exploring vegan fashion in 2015, when I gave up leather/wool and all other animal skin completely. This is the same time I became vegan after watching several videos and educating myself about how leather/wool is produced.
Q. What have you learnt since starting your own clothing line?
A. I am just so happy that my dreams are coming true. I've learnt to believe in my vision and my creativity more than ever. I have also learnt to be unique and stay true to myself – in the world of Instagram it is so easy to do what everyone is doing but when you have your own unique vision you learn so much about yourself. My message for others who are starting their own online business would be – Love And believe in yourself and stay unique because that is where your power is!
Q. Where do you see the vegan fashion industry in the next 5 years?
A. Now that we have vegan fashion week in Los Angeles, and so many amazing brands that have become mainstream – I feel things are only going to get so much bigger for vegan fashion. London fashion week was fur-free in 2018, maybe one day it will also be leather-free. People are coming into awareness of the cruelty involved and I believe more and more people will stop wearing animal skin in the next 5 years.
Q. How would you describe your personal style?
A. My style is classy and simple. I love mixing bright colours in my outfits. I believe less is more when it comes to style – I am always inspired by the timeless elegance
Q. What's your favourite piece of vegan clothing/accessory?
A. I adore the Santorini Top from my label: The Cherry Blossom Closet. It is really versatile and chic and will never go out of style. My favourite accessory is any bag from Matt & Nat. I love what the brand stands for and their quality and style is amazing!
Q. Who is your style icon?
A. Audrey Hepburn – she was a class above the rest.
Q. What has been difficult to find a vegan alternative for?
A. Nothing to be honest! Everything has alternatives now, from over the knee boots to biker jackets
Q. What would you say to people who don't know what vegan fashion is?
A. I would say compassion is a beautiful quality to embrace and they should educate themselves about vegan fashion. Knowledge is what brings awareness, which brings change.
Discover more from GRANDERMARNIER